Description
MENA Rail & Metro Projects Report 2023
MENA Rail & Metro Projects is the latest premium market report from MEED, the leading provider of Middle East business intelligence.
The report provides a complete picture of the region's railway projects market and assesses the opportunities, trends and challenges as it launches a series of multi-billion-dollar projects like the Oman-UAE rail link, the expansion of Riyadh metro, Kuwait's national railroad, and Algeria's nationwide rail building programme.
From having one of the lowest-density rail networks in the world, the MENA region is fast emerging as a top global destination for rail and metro investments. Regional governments are promoting some of the most modern rail networks in the world, looking to ramp up investments in the transport infrastructure to build a modern, competitive and interconnect economy. Rail has never been more important.
The report is of high-value to investors, contractors, manufacturers and consultants with a powerful resource that will help them to identify new opportunities, set strategy, and mitigate risk in this potentially lucrative market.
The 200-plus page report includes dozens of project profiles, tenders, asset maps, and key data on upstream and downstream assets such as current and planned capacity.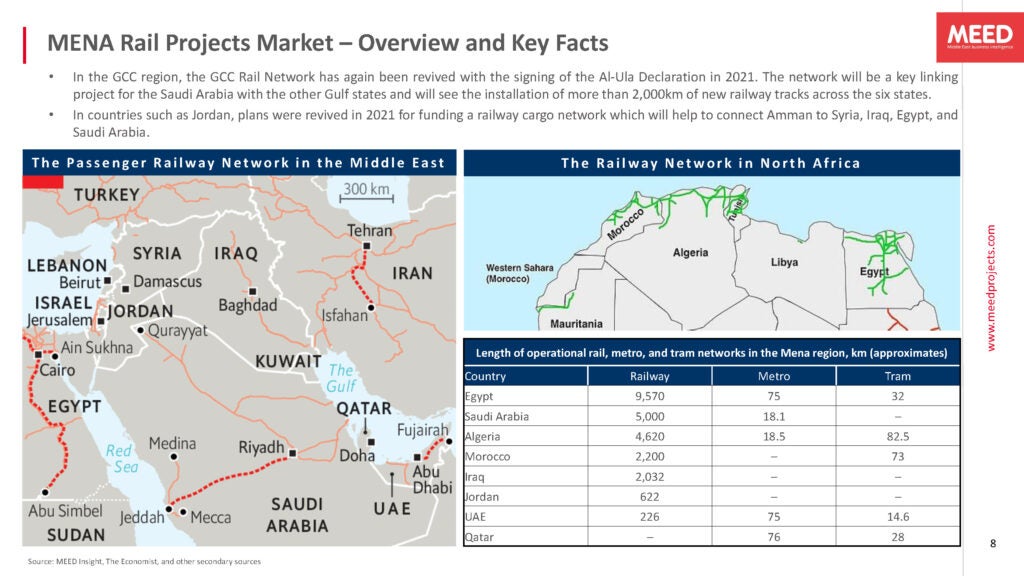 MENA Railway Projects Accelerate
There has never been a time with more railway and metro projects in the region than today. After a five-year lull, the market is fast accelerating with more than $200bn worth of projects in the pipeline.
Following the 2021 Al-Ula Declaration the GCC states have recommitted to the GCC railway network, the first interconnected project of which is the UAE-Oman rail link, now out to bid. Later tenders are expected for the sections linking the other GCC states.
High-speed rail links are already under feasibility between Kuwait and Riyadh and Doha and Riyadh, while Bahrain is imminently expected to tender the long-awaited King Hamad Causeway project comprising a new rail line between the Kingdom and Saudi Arabia.
Likewise, Qatar is planning three passenger and freight rail links between Doha, King Hamad International Airport and the Saudi border, while Saudi Arabia is in advanced talks with the Chinese government over the construction and operation of its $10bn+ landbridge project connecting Jeddah and Dammam via Riyadh.
Also under planning is Etihad Rail a third phase high speed passenger network between Abu Dhabi and Dubai. The project company recently released a tender for three passenger stations under its Phase 2 network plans.
New metro schemes include potential new lines in Muscat, Abu Dhabi and Kuwait, as well as extensions to existing metro networks in Dubai, Riyadh and Doha.
Outside the region, Baghdad is close to awarding its elevated metro project to a Franco-Korean team, while Egypt is building one of the world's most ambitious high-speed rail schemes linking Ain Sokhna with Alexandria and then running down to Cairo, Asyut and Luxor before extending to Hurghada. This is in addition to ongoing extensions to Cairo metro and the modernisation of its existing lines.
Alexandria too is getting its own metro network while its 150-year-old tram system is also being modernised.
In Algeria the government last year announced a massive prequalification exercise for more than 12 new railway lines totalling more than 1,000km of new track. Morocco too is considering extending its own high-speed network from Casablanca to Agadir and Marrakesh.
This new commitment to railway investment comes as the Arab world pushes for greater interconnectivity and seeks to lower the environmental impact of road transport. At the same time, increasing gridlock in the region's cities is forcing governments to provide public transport systems to alleviate traffic levels.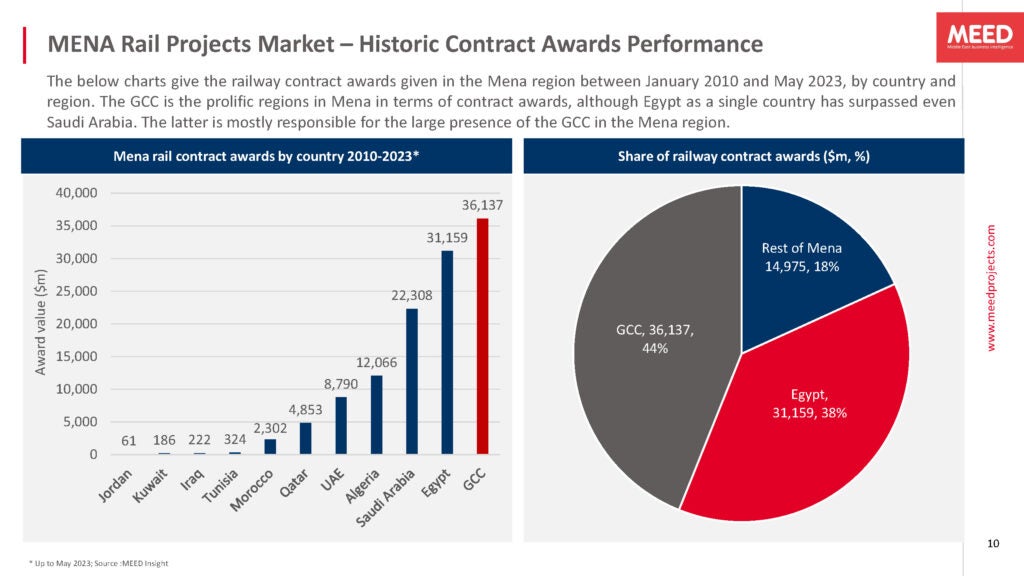 Who will benefit from the MENA Rail & Metro Projects Report 2023:
Bankers
Economists and analysts
Rolling stock manufacturers
Systems and signalling firms
Subcontractors
Suppliers
Law firms
Professional service firms
What is unique about MENA Rail & Metro Projects Report 2023?
Gain insight into mainline, metro and tram projects across the Gulf, North Africa and the Levant.
Understand the current and upcoming project opportunities in each Mena state.
Access key project details, including maps, bidders lists, procurement timeframe and technical details.
Understand individual country strategies for their rail and metro development plans.
Quantify the value of current and future rail and metro investment in each country.
Access essential contact information for principal clients.
Understand the challenges involved in building rail lines in each country.
All the MEED Insight reports are delivered via email in digital version.